Enver Hoxha
Pictures - Billeder
The memorial at the Martyr's Cemetary, Tirana
- annihilated by the counterrevolution
Gravmonumentet på Martyrkiregården Tirana
Sløjfet af kontrarevolutionen
Enver Hoxha (1908-85) was the greatest marxist-leninist theoretician and politician in the period after the death of J.V. Stalin. He was the founder of the Communist Party of Albania - later renamed the Party of Labour of Albania (PLA). The Albanien partisans led by the Communist Party liberated the country relying on their own forces in 1944 - and Enver Hoxha became the leader of his country until his death. On the international level his unrelenting struggle against modern revisionism of all hues and for the defense of Marxism-Leninism greatly assisted the communist and revolutionary forces.
Enver Hoxha (1908-85) var den betydeligste marxistisk-leninistiske teoretiker og politiker siden J.V. Stalins død. Han var grundlægger af Albaniens Kommunistiske Parti - senere omdøbt til Albaniens Arbejdets Parti (AAP)i. De albanske partisaner befriede landet ved egne kræfter i 1944 - og Enver Hoxha forblev landets leder indtil sin død.
På internationalt plan var hans kompromisløse kamp mod den moderne revisionisme af alle afskygninger og til forsvar for marxismen-leninismen en stor hjælp til de kommunistiske og revolutionære kræfter.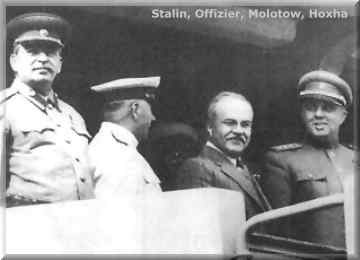 WITH STALIN
- MED STALIN


Stalin, Molotov and Enver Hoxha in The Red Square
Stalin, Molotov og Enver Hoxha på Den røde Plads, Kreml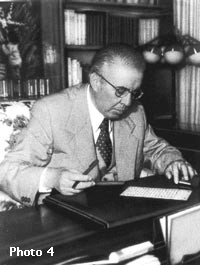 IN HIS STUDY
- I ARBEJDSVÆRELSET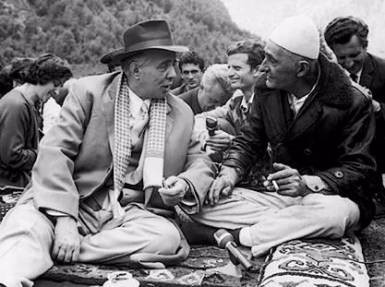 AMONG PEASANTS -
- SAMMEN MED BØNDER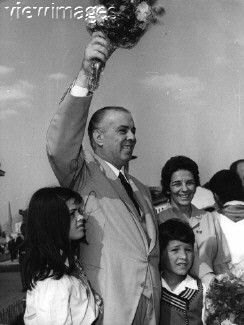 WITH THE PEOPLE -
BLANDT FOLKET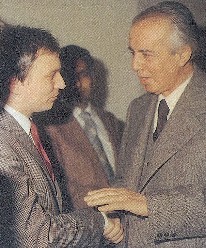 PROLETARIAN INTERNATIONALIST



With Comrade Klaus Riis, 1st Secretary of the Communist Party of Denmark (Marxist-Leninist), 1979

Enver Hoxha med Klaus Riis, formand for DKP/ML, Tirana 1979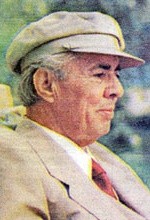 IN HIS LAST YEARS -
I DE SIDSTE ÅR
ENVER STILL LIVES -
ENVER LEVER